Optum: replace Excel with Write-Back and track all the inputs
5-SECOND SUMMARY:
The Advanced Technology Group, a team within Optum, was using Excel spreadsheets and SharePoint to share information. However, it was difficult to see when key stakeholders were requiring server updates.
The solution was to replace Excel with Write-Back, to visualize and capture the manual input of data in a single source.
About Optum
Optum is a health services and innovation company on a mission to help people live healthier lives and to help make the health system work better for everyone. Optum is part of the UnitedHealth Group family of businesses, powering modern healthcare by connecting and serving the whole health system across 150 countries. It combines cutting-edge technology, the world's largest healthcare database and vast expertise to improve healthcare delivery, quality, and efficiency.
The Challenge
The Advanced Technology Group (ATG) is a team within Optum technology that supports UnitedHealth Group.  ATG assists operational teams working on business-critical applications and technologies within Optum through various reporting mechanisms, such as dashboards. It has also expanded its capabilities to provide support to business units in the organization using AI/ML. The goal is to aid clients in better understanding patterns in their data.  ATG's experience in data analytics has resulted in the team providing greater insight into information to business partners, allowing them to make more effective decisions based on the knowledge gained.
The ATG leverages various tools to support its customers, allowing them to view the information clearly and tell the whole story about what's happening.  For example, one function managed by the operations team is Product Life Cycle Management (PLM).  PLM aims to understand when software on servers needs to be updated to ensure that they comply with specific policies.  There are some scenarios where servers will need to be decommissioned.  However, determining a server's eligibility to be updated or decommissioned is tracked and discussed before a decision is made.  Before Write-Back, the team was using Excel spreadsheets and SharePoint.  The big challenge was that many spreadsheets made it difficult to understand when key stakeholders required a server to be updated or decommissioned.
Additionally, the use of Excel spreadsheets was error-prone.  The information would be inaccurate if someone filled a cell incorrectly or if a spreadsheet got lost.  Leveraging this process made it challenging to use and represent the data in Tableau.  SharePoint and Excel were being used to import data into Tableau, and this mechanism was not clean and smooth.  It was difficult to obtain data inputs from subject matter experts in a streamlined process.
The Solution
The solution was to replace Excel with Write-Back. Write-Back allowed Optum to combine Tableau with the visualization and capture the manual input of data in a single source. The most significant advantage is that now it is possible to track who made the changes, which is something that did not readily exist with the use of Excel spreadsheets. With so many users going into Excel spreadsheets, it was hard to track who was making updates. So, once Write-Back was available, the overall experience improved by having users go to one centralized location within Tableau and have all data localized. Since it resides on a table, this information is very easy to use on dashboards, related explicitly to PLM (Product Life Cycle Management). It's a much smoother process now because it is possible to track all trajectories, from when a server discussion is started to when it becomes decommissioned, upgraded, or patched. Now data is all written in one place, and it is easier to track, store, and rely on the information the team reported.
In addition to all the benefits, Write-Back enabled the PLM team to interact with the dashboards in a new and innovative way to input data than what previously existed.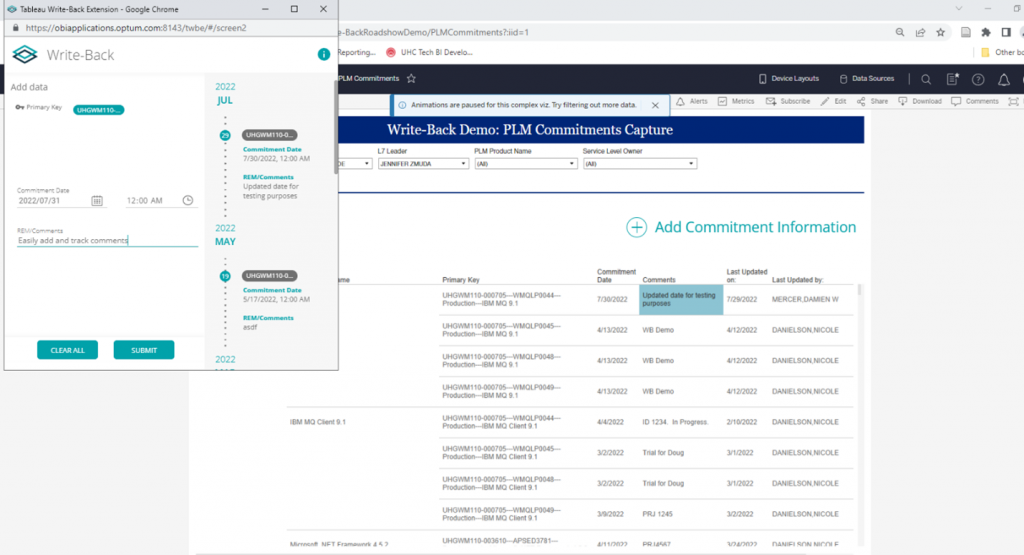 Results
The benefit of Optum using Write-Back is the ability to effortlessly observe stakeholders who have updated the target date of software upgrades of servers.  The new capability ensures installed software is adequately updated before it becomes non-compliant and allows the PLM team to identify the individual(s) that have updated the tracking commitments.  Whereas, before Write-Back, updates could not be easily tracked, and identifying the individual(s) making the changes was impossible.  Utilizing the PLM Commitment dashboard integrates Tableau and Write-Back, allowing stakeholders to view all server information and input target dates or comments directly. All the benefits because Optum choosed to replace Excel with Write-Back.
Furthermore, the PLM team noticed a reduced time to obtain updates and now leverages a streamlined process to capture PLM-related data.