New features from Tableau Conference 2023 and what I learned
5-SECOND SUMMARY:
Tableau Conference 2023 gathered data enthusiasts, industry experts, and leaders worldwide.
Groundbreaking product innovations and new features were announced, including Tableau GPT and VizQL Data Services.
The event was a resounding success, inspiring and reinforcing the commitment to empowering users with Write-Back.
As proud sponsors of Tableau Conference 2023, we are thrilled to share our recap of this year's highly expected event. The conference brought together data enthusiasts, industry experts and leaders worldwide, creating a vibrant atmosphere of knowledge sharing, innovation, and inspiration.
At Tableau Conference 2023, the excitement was real as groundbreaking product innovations were announced. 
One of the standout moments was the introduction of Tableau GPT, harnessing the power of generative AI to grant more individuals access to data and insights than ever before. 
Additionally, VizQL Data Services appeared as a game-changer, transforming how data is used through composable analytics. And let's remember the Data Cloud for Tableau, which offers a trusted and unified perspective of all your data sources, providing a harmonized view for seamless analysis. 
These remarkable advancements highlighted at TC23 are set to empower users and reshape the future of data analytics.
Tableau Conference Main Keynote: A New Day for Data:
The keynote delivered on its promise, giving us a comprehensive overview of the latest Tableau advancements. 
Speakers captivated the audience with compelling insights and demonstrations, showcasing how Tableau is revolutionizing how organizations leverage data for decision-making.
It was a truly inspiring moment that left us feeling motivated and enthusiastic about the possibilities ahead.
How Vanguard is Saving 50-200 Hours with Tableau:
As expected, this session was a great success, with over 200 registered attendees, and it was of great interest. With a packed room, Naveen Chansoria and Stuart Jackson from Vanguard delivered their presentation, captivating the audience's attention. They skillfully presented the success case of Vanguard using Write-Back and Tableau, a combination that saves them precious time.
Following the presentation, there was a demonstration of one of the successful case dashboards and a final Q&A session, which included Write-Back Product Manager, Ricardo Pires, to address more specific product-related questions.
Iron Viz Keynote:
The captivating Iron Viz competition was one of the most thrilling and awe-inspiring moments at the Tableau Conference. The atmosphere was electric as three talented contestants took the stage, armed with only 20 minutes and a shared dataset. The audience was on the edge of their seats, eagerly expecting the incredible visual storytelling that was about to unfold. Each contestant highlighted their expertise, creativity, and speed as they transformed raw data into stunning visualizations right before our eyes. 
The room was filled with amazement and enthusiastic applause as their stories unfolded, bringing the data to life in remarkable ways. 
Among the three finalists, Brittany Rosenau (Senior Business Analyst, JLL), Nirosh Perera (Data Visualization Specialist), and Paul Ross (Senior Data Analyst, AutoGuru), the award was given to Paul. Excellent performance in a great competition
Iron Viz is a true testament to the power of data visualization and its ability to captivate and engage audiences.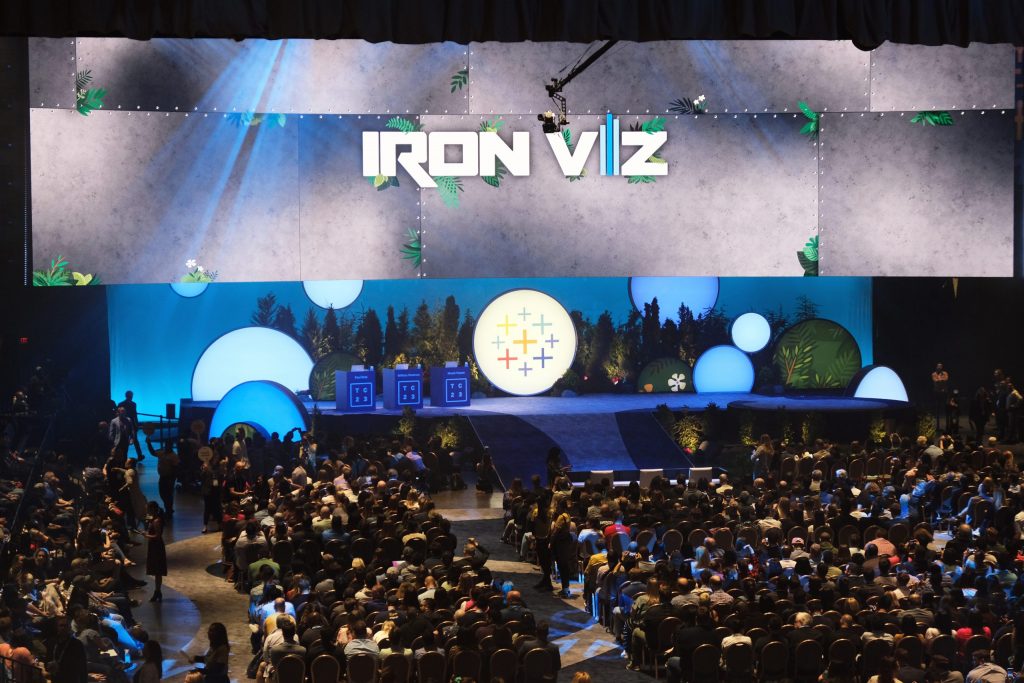 Data Night Out:
Data Night Out at the Tableau Conference was a true highlight, offering attendees a chance to let loose and have a great time. The event featured live performances from talented duo Sofi Tukker, creating a vibrant and energetic ambience that kept everyone on their feet. With a wide variety of food and drink options, attendees could indulge in delicious bites while enjoying the company of fellow data enthusiasts.
Whether engaging in conversations with industry experts, taking part in fun activities, or simply taking in the lively ambience, Data Night Out was a fantastic opportunity to unwind, celebrate, and create lasting memories with like-minded individuals from the Tableau community.
To sum up:
Tableau Conference 2023 was an incredible experience for the Write-Back team as proud sponsors of this prestigious event. We were inspired by the passion, innovation, and dedication displayed by the Tableau community. We are thrilled to be a part of this journey and are already counting down the days until we can reunite at the Tableau Conference 2024 in the beautiful city of San Diego, California.
We sincerely thank the organizers, speakers, and attendees who made Tableau Conference 2023 a resounding success. The event has further reinforced our commitment to empowering users with Write-Back, enabling them to unleash the true potential of their data processes.
Write-Back team @ Tableau Conference 2023